About Chapman & Feit (2015), R for Marketing Research and Analytics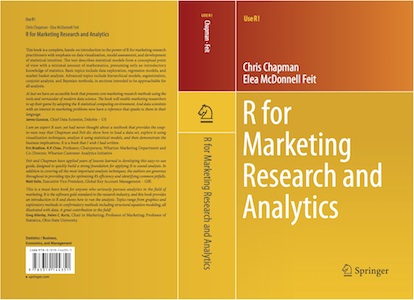 This book is for:
Marketing research practitioners seeking to learn R.
Data scientists interested in marketing applications.
Marketing students and academics interested in practical applications.
Researchers in related fields who are interested in marketing methods or who encounter classic marketing problems.
Reviews
R for Marketing Research and Analytics provides an excellent introduction to the R statistical package for marketing researchers. This is a must-have book for anyone who seriously pursues analytics in the field of marketing. R is the software gold-standard in the research industry, and this book provides an introduction to R and shows how to run the analysis. Topics range from graphics and exploratory methods to confirmatory methods including structural equation modeling, all illustrated with data. A great contribution to the field!
--Greg Allenby, Helen C. Kurtz Chair in Marketing, The Ohio State University
R for Marketing Research and Analytics is the perfect book for those interested in driving success for their business and for students looking to get an introduction to R. While many books take a purely academic approach, Chapman (Google) and Feit (formerly of GM and the Modellers) know exactly what is needed for practical marketing problem solving. I am an expert R user, yet had never thought about a textbook that provides the soup-to-nuts way that Chapman and Feit do: show how to load a data set, explore it using visualization techniques, analyze it using statistical models, and then demonstrate the business implications. It is a book that I wish I had written.
--Eric Bradlow, K.P. Chao Professor, Chairperson, Wharton Marketing Department, and Co-Director, Wharton Customer Analytics Initiative
Chris Chapman's and Elea Feit's engaging and authoritative book nicely fills a gap in the literature. At last we have an accessible book that presents core marketing research methods using the tools and vernacular of modern data science. The book will enable marketing researchers to up their game by adopting the R statistical computing environment. And data scientists with an interest in marketing problems now have a reference that speaks to them in their language.
--James Guszcza, Chief Data Scientist, Deloitte - US
Finally a highly accessible guide for getting started with R. Feit and Chapman have applied years of lessons learned to developing this easy-to-use guide, designed to quickly build a strong foundation for applying R to sound analysis. The authors succeed in demystifying R by employing a likeable and practical writing style, along with sensible organization and comfortable pacing of the material. In addition to covering all the most important analysis techniques, the authors are generous throughout in providing tips for optimizing R's efficiency and identifying common pitfalls. With this guide, anyone interested in R can begin using it confidently in a short period of time for analysis, visualization, and for more advanced analytics procedures. R for Marketing Research and Analytics is the perfect guide and reference text for the casual and advanced user alike.
--Matt Valle, Executive Vice President, Global Key Account Management – GfK
Overall the book has many strong aspects. It is for the most part well organized and has a clear didactic flow. The didactic concept is certainly well thought through and the experience is enhanced by the "key points" summaries that are available at the end of each chapter. Together with the motivating example and the emphasis on "try it yourself" the book allows for sustainable learning. ... I find the book to be a very welcome addition to the Use R! series and the marketing research and business analytics world. I can wholeheartedly recommend it for the described audiences and beyond and will certainly use this book in class and consulting.
--Thomas Rusch, Assistant Professor, Competence Center for Empirical Research Methods, Vienna University of Economics and Business Journal of Statistical Software, October 2015
More publication details are at: